When clicking on a mailto link, Outlook used to get opened and I could write my email. Now, when I click on a mailto link, it brings up Gmail while I don't even have a Gmail account. I've already made sure that Outlook has been set as my default mail client in Windows, but mailto links still bring me to Gmail.
How can I get mailto link to open with Outlook again?
It sounds like you are not using Internet Explorer as your default browser then ;-). Firefox and Opera both have an option to override the system default mail client (in your case: Outlook) and link it to a web mail service instead. Chrome, Safari and (of course) Internet Explorer respect the default mail client settings which you have configured in Windows.
Firefox
To set Firefox to respect your default mail client settings in Windows again when clicking on a mailto link choose;
Tools-> Options…-> tab Applications-> click on the "mailto" drop down list and select: Use Microsoft Outlook.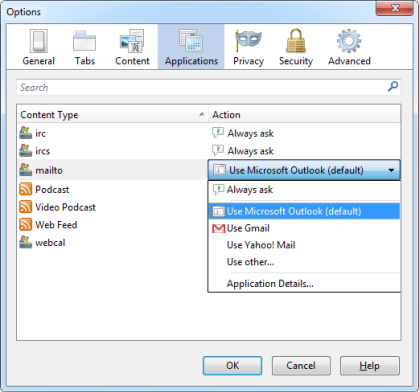 Configuring the Mailto protocol in Firefox (click to enlarge).
Opera
Opera sets the default for mailto links to its own mail client. To change it to Outlook choose;
Opera menu-> Settings-> Preferences… (CTRL+F12)-> tab Advanced-> section Programs-> select: mailto-> button Edit…-> select: Open with default application.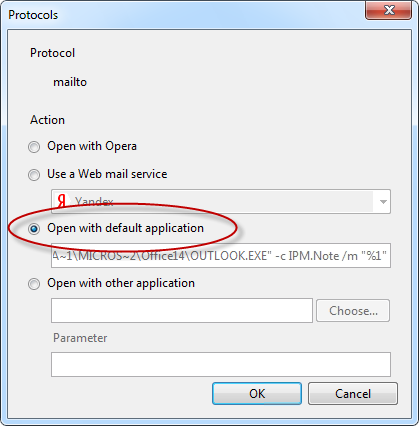 Configuring the Mailto protocol in Opera.