I'm using an IMAP account in Outlook 2010 and ever since I upgraded, I no longer get any new mail alerts (like a sound and the envelope icon). I used to get these alerts when I was using Outlook 2007 or previous.
How can I get new e-mail alerts for IMAP accounts to work in Outlook 2010?
This is indeed a bug in Outlook 2010 when working with IMAP account. At the moment, there is no available fix for this. Once there is, I'll update this post with a reference to the update.
Workaround
Until a fix is released, you can create an alert rule as a workaround;
Select the Inbox folder of your IMAP account.
On the Home tab, click on the Rules button and choose Manage Rules & Alerts… .
Click on; New Rule…
Select: "Apply rule on messages I receive" and press the Next button.
Verify that no condition is selected and press Next.
A warning will pop-up stating that this rule will apply to all messages. Press "Yes" to indicate that that is correct.
Select one or more of the following actions;

play a sound
at the bottom, click on "a sound" and browse to
Windows 7 and Windows Vista: C:\Media\Windows Notify.wav
Windows XP: C:\Media\Windows XP Notify.wav
display a specific message in the New Item Alert window
at the bottom, click on "a specific message" and type your custom message. For instance;
New IMAP messages
display a Desktop Alert

Click Next and then Next again to skip the exceptions dialog.
Specify a name for the rule and press Finish to complete the rule.
If needed move the created rule all the way to the top.
Note 1: Displaying the new mail envelope icon via a rule is not possible. To create a permanent alert, select the action; display a specific message in the New Item Alert window. Another way to create a permanent alert is to configure the New Mail Desktop Alert to stay longer than 30 seconds.
Note 2: Another method to keep track of recently received emails is by using my previous tip of creating a "Today's Unread Mail" Search Folder.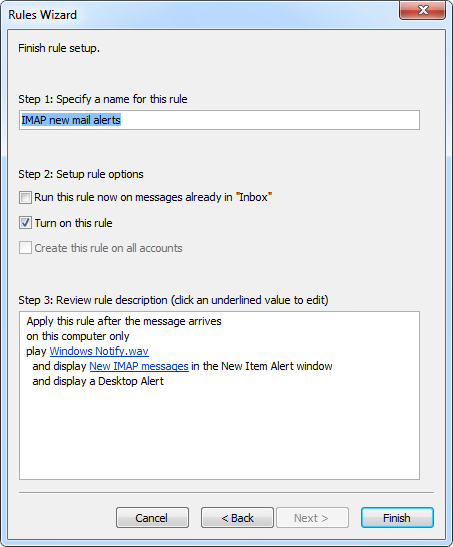 The final rule creation dialog for creating a new mail alert for IMAP accounts.