When looking at my folder list, I see 2 folder sets with the same emails. One is my default where I keep all my email, contacts, etc… and the second one is called Personal Folders and shows all my emails as well. When I delete a message from Personal Folders, it is also deleted from my main mailbox.
How can I remove this duplicate set of folders?
This can happen with certain type of mail profile corruptions. Most often this happens when pst-files get overwritten or are being replaced in a way other than via the Outlook or Mail Applet interface. In that case, you'll have to recreate your mail profile to get rid of it.
Since the above suggestion can be a bit drastic when you have a complex mail profile configuration, there are some other things that you could try first.
"Operation failed" error
The first is to right click on the root of the folder set that you want to close and choose "Close <folder set name>" or use;
Outlook 2003 and 2007
File-> Data File Management…-> Select the folder set to close and click "Remove".
Outlook 2010
File-> Account Settings-> Account Settings…-> tab Data Files-> Select the folder set to close and click "Remove".
This is quite unlikely to succeed though and you'll often be presented with an errors which reads;
"The operation failed. An object could not be found."
Cleanprofile switch
A second method is to start Outlook with the /cleanprofile switch. This will remove invalid keys from your mail profile and recreates missing ones;
Windows Vista and Windows 7
Start-> type; outlook.exe /cleanprofile
Windows XP
Start-> Run; outlook.exe /cleanprofile
Note the space in the command above.
Ghostbuster tool
If that doesn't work either, you can use a special tool called "PST Ghostbuster" from CodeTwo. This is a free tool which can deal with most of the corruptions in which duplicate folder sets will show up in Outlook.
Recreate your mail profile
If all the above methods fails, you'd have to recreate your mail profile after all.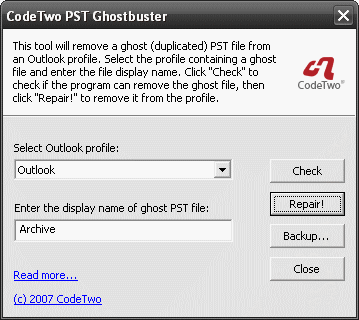 Use the CodeTwo PST Ghostbuster tool to get rid of double listed pst-files.
Note: While PST Ghostbuster is free, CodeTwo also sells some other software solutions for Outlook and Exchange. If you find one that you like, use PFHTO781 to get a discount.