I have multiple address lists in Outlook;
1 is our internal list (Global Address Book)
1 is my business contacts
1 contains my private contacts.
When I bring up the Address Book in Outlook, by default it shows our internal list. However, I work a lot more with my business contacts in my Contacts folder.
Is there a way I can make my own Contacts folder the default?
When you use Outlook without an Exchange Account, the default address list when bringing up the Address Book and when pressing the To, Cc or Bcc buttons is your Contacts folder. When you use and Exchange Account, the default is the Global Address List.
You can change the default via the following steps;
Open the Address Book by pressing CTRL+SHIFT+B or via;

Outlook 2007 and previous
Tools-> Address Book…
Outlook 2010
Use the Address Book icon on the right side of the Home tab in the Ribbon.

In the Address Book dialog choose Tools-> Options…
Use the dropdown list for "Show this address list first" to your preferred address list.
In Outlook 2010 this option is called "When opening the address book, show this address list first".
Press OK.
Close the Address Book dialog.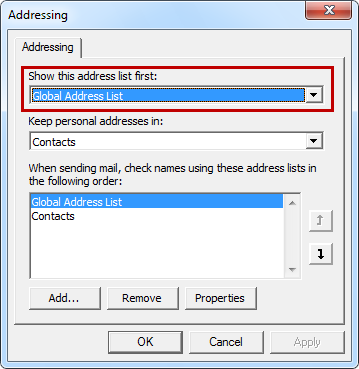 The Address Book options dialog allows you to select a default Address List.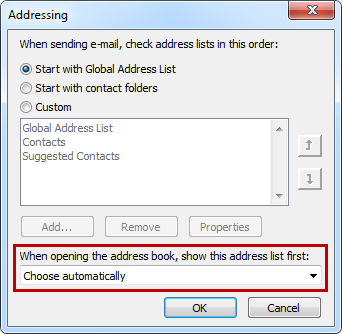 The Address Book options dialog looks a bit different in Outlook 2010.